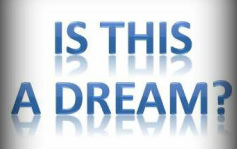 Lucid Dreaming
and
the Critical Question
---
Rule # 1:
Memory Depends on Context
AKA ​You're Doing the Reality Testing Thing Wrong

To become lucid, it helps to foster a critical attitude towards reality. What is real? We correctly assume most things, and without assumptions and stereotyping we would encounter each situation as if we had never been on similar ground before. This would be exhausting, if not impossible.
Usually
, we would be safe in allowing most of our mental processes to occur below the conscious threshold. However, would-be lucid dreamers should practice becoming critical of whether they are actually awake in the physical world. In regular dreams, many of the brain regions which are responsible for higher-level executive functioning (the type of consciousness and thought processing which humans have on a good day, and most other species presumably never have) are less active than while awake. This non-critical attitude and diminished capacity for planning/working-memory usually result in purely reactive behaviors in dreams. All emotion, little rationality.
In dreams we can test our situation by re-reading words and checking for permanence, or by flipping a light switch on and off, but first we have to suspect that something is askew. This may happen spontaneously in response to peculiarities from characters or something about the environment. Usually though, we just accept whatever is happening in a dream, no matter how frightening, uncomfortable, or unlikely, and proceed. This need not always be the case. You can train yourself to have a more critical attitude to whether or not you are asleep and dreaming.
Am I Dreaming?

This is the question. The key to unlocking the door to your inner-realms. These words, when correctly applied, can push away the veil covering your lucid opportunities. At first, it may be useful to attempt asking yourself the critical question as often as you can throughout the day. You may set a reminder on your phone or watch, but ultimately you want to develop an automatic behavior in which you
test reality
whenever something doesn't feel right, or when you are in a situation resembling what dreams are like (as predicted by the
Threat Simulation Theory of Dreaming
). One creative way to practice this is by watching movie scenes which involve chases, aggression, falling, failing, and/or misfortunes, and asking the critical question while your fight-or-flight emotions are being triggered.