---
Books About Lucid Dreaming

---
I'll save you some energy and summarize the key points that I got from the major titles in Lucid Dream literature. Reading about lucid dreaming can be a good way to keep your motivation to achieve lucidity peaked, and of course reading is a means to obtain new information regarding induction techniques and practices and exercises to carry out when in lucid dreams.

As is usually the case, there are only a select few original titles in the lucid dreaming literature, and the rest are more-or-less good intentioned copy-cats. One of the books that I do not go into depth here is the original Lucid Dreams by Celia Green, published in 1968. Although this title is one of the first modern books to give serious consideration to lucid dreaming, Celia herself had not experienced first-hand lucid dreaming. So, we'll skip that one.

---
Dream Books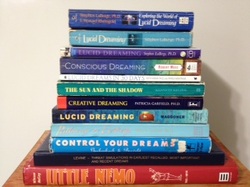 We'll start from the bottom of the stack of books to the left:
Little Nemo, by Winsor McCay, is a full collection of the classic comic strips portraying Nemo, a little boy, and his quests to find Slumberland, published in the Sunday supplement of the New York Herald newspaper from 1905-1914.
These are cute, although at times somewhat racist looking, cartoons which depicted the very active dream life of Little Nemo, and follow then-popular concepts around dreaming. That means that Freud was a likely influence on the thematic structure of the comics. The majority of the dreams involve falling, being chased, creatures/monsters, adventures. Not so far off from what real dreams are like. And the artwork is beautiful, with lots of detailed architectural images in perspective. Fun little stories. Nice art.
Threat Simulations In Earliest Recalled, most Important, And Recent Dreams, by Derek Levine (that's me). This one isn't available at your book-store. This was actually my thesis project. Basically, I found that in my participants' reports and data, I found consistent themes and content with many other studies which have been conducted in various cultures and separated by decades. My conclusion is that dreaming is rather generic, based on genetic scripts, and seems to follow Antii Revonuo's Threat Simulation Theory for the function of dreaming. I have since replicated this study with different groups and consistently come up with the same conclusion - dreaming is scary. Of course, there is more to dreaming than that. For instance, we can become lucid in dreams! Lucidity is probably not what dreaming has been adapted for, evolutionarily speaking, but because we are humans we can do whatever we want.
Control Your Dreams, by Jayne Gackenbach and Jane Bosveld was to me, the authors' case for using waking meditative practice as the means to induce lucid dreams. I point to be taken. Lucidity does require a kind of detached involvement in the experience itself. Meditations (in many flavors, but not all) and lucid dreaming alike involve the activation of what has been called "the observer." This is a consciousness which is aware of what is going on but views the situation with an emotional equanimity. Learning how to exist in an intensely powerful and opportune frame of reality (lucid dreaming) necessitates the developed handle on excessive emotion. Too happy, too excited, and you wake up. Too scared, or conversely too apathetic, and you either fall back into normal dreaming or wake up. I am not saying you have to start meditating in full lotus position to become a proficient lucid dreamer, but it does help to get a grasp on the equanimity thing. Hint: it always comes down to control of your breathing. And you can practice breath control anytime, anywhere. Anyway, this book makes some good points, but since then we have made some advances on the lucid dream induction front.
Pathway to Ecstasy, by Patricia Garfield was published right after LaBerge evidenced the existence of lucid dreaming as a measurable phenomenon, by way of pre-arranged eye signals carried out once the dreamer becomes lucid in a lab. A curiosity among my collection of dream books. Garfield recurringly compares lucid dreaming to a long orgasm of indulgent flight. The other main gist of this book is the author describing her daily ritual of drawing dream-mandalas: circular images reflecting the mood of her previous night's dreams.
Lucid Dreaming: Gateway to the inner self, by Robert Waggoner, kind of diverges far off from my direction. To be fair, if you don't like my style of lucid dream discussion, you may be a big fan of Waggoner. Different strokes. Belief in telepathy and precognition steer this book into territory I feel is a waste of time. Believe me, I would be the most excited person if anyone ever demonstrates these phenomena to be real, but until then, there is too much exciting terra-actual to explore. Although my ideas about "ultimate reality" have always leaned toward agnosticism, when i was younger I just assumed that it could be possible to cultivate skills like levitation, shared-dreaming, extra-sensory perceptions. After a while, I finally became increasingly skeptical against claims which could not be demonstrated, and claims which go against my own experience. Further, this book outlines various stages of accomplishment which I think are arbitrary and not necessary.
Creative Dreaming
, also by Patricia Garfield, was the entry-point for many people, including myself, into a broader understanding of dreaming, beyond my own myopic set of data to a fuller spectrum of our accumulated knowledge. In retrospect, it is funny how all of the older literature points to the
Threat Simulation Theory
(Revonsuo, 2000), yet nobody bridged all of the evidence together. But anyway, Creative Dreaming was one of the first
places
I learned about lucid dreaming,
dream-control
, dream-incubation, and generally using dreaming as a tool. Creative Dreaming also introduced many readers to the
Senoi
dreaming methods, traditional practices and an apparently dream-centered lifestyle which this rainforest-people maintained. Turned out that the anthropologist who wrote about the Senoi made up or way exaggerated his information. However, the advice was still valuable; for instance: Instead of running from your pursuer in a dream, stop, turn around, and...well, in this made-up tradition you would have to fight and subdue the attacker and force them to give you a gift. I say that this is an option, but not the only or necessarily the best way to spend
your
time in the very time-limited dream world whilst lucid.
The Sun and the Shadow
describes the highlights and conclusions of Kenneth Kelzer's "experiment with lucid dreaming." I was influenced by this self-documentary style of lucid-dream-book and wrote my own, 3 years into my lucid induction experiments. I had my manuscript fully edited but never went through with publishing and I'm glad I didn't - I had little to offer at the time beyond what others were already saying. I didn't even know how normal my dreams were; I thought that all of the negative content was a reflection on me, rather than an ancient biological "artifact." Kelzer titled his book as a reference to his primary conclusion: The more aware we become in dreams and the brighter the lucid-mind shines, the more we also notice our dark sides and base instincts. Again, this can be discussed from a Threat Simulation perspective. I think what was going on here is that Kelzer, like most people, expect that lucid dreaming should be pure bliss and fun, and yet lucid dreams end up still running the ancient Threat Simulation schema and scripts.
Lucid Dreaming in 30 Days
outlines a "Sleep Program" which details different exercises to be preformed each day for a month, building toward lucid induction. Some exercises need to be performed in sequence, latter days building on prior. Lot of referencing LaBerge and Castaneda, but a few interesting ideas are included like falling asleep to a cartoon in hopes of incorporating rich, exaggerated content. The program begins with keeping a dream journal and incubating dreams, and I don't doubt that anybody who actually follows the advice for 30 days would likely achieve lucidity. Overall, a good outline with clear steps to follow. As with most writings on the subject, a better understanding of why we dream and what constitutes typical lucid dreaming would eliminate some of this book's ideas and suggest inclusion of other findings.
Conscious Dreaming
, to my surprise, was not about lucid dreaming. I couldn't actually read through it. But I know it is big is these circles, so my two cents is that if you are interested in a scientific and rational approach to lucid dream induction, this shouldn't be your first read.
Lucid Dreaming: A concise guide to awakening in your dreams and in your life
is just what it claims. LaBerge's thinner rendition of the following two books, below, includes a CD with "meditations" and sums up LaBerge's conception of the essential lucid dream how-to manual. As of 2013, the full teachings of LaBerge are available as a week-long Hawaiian retreat, where he tells all he's learned and you can get a chance to use induction technology while in paradise.
Lucid Dreaming: The power of being awake in your dreams
was LaBerge's first bible on lucid dreaming, and was state of the art until...
Exploring the World of Lucid Dreaming
,
also by LaBerge and coauthored by Howard Rheingold, is an updated manual with LaBerge's views on lucidity. Journaling, spinning, flying. The MILD technique. Schemas as cognitive outlines. What are schemas? These are your mind's models for what a thing (person, place, situation) should be like. We have schemas for what a neighborhood looks like, for how a person will act based on where they live, for what the floor is for versus a bed. The point in this context is that dreams follow particular schema, and you would be well advised to become familiar with your dream schemas. This might as well be regarded as themes, and LaBerge could have added that most dreams are negatively bent and generally follow only a limited few themes/schematic structures.
---
---
Advanced Lucid Dreaming: The Power of Supplements, by Thomas Yuschak

---