---
Biorhythms and Lucid Dreaming

---
Why should you
not
focus on WILD methods for lucid dream induction, especially for newbies? Why is the Wake-Back-To-Bed method of lucid dream induction so effective? Why do we even sleep and have different stages of waking and sleeping?
Biorhythms! (The most well-known of which is the Circadian Rhythm.) I have posed this question to my students: "What would life be like on Earth if there were only daylight (no night-time) every day, all day?" You see, evolution on Earth occurred within the context of regular cycles - there is night/day, light/dark, cooler/warmer periods, high/low tide, and various other and usually more subtle rhythms as part of our natural world.
Sleep likely evolved into even the most primitive of organisms as an adaptation to these cycles. If there was only day, would sleep have evolved? Hard to say, because we do not have an example of life evolving on another planet without the kinds of cycles we have. Sleep is a strange thing, but must have been valuable for species survival because it was evolutionarily selected for.
Human sleep is rather predictable. It is AMAZING to me that it took so long for our appreciation for sleep stages to develop. REM-sleep, when we are most likely to be dreaming, wasn't "discovered" until the mid-twentieth century. You can watch any person, or dog for that matter, sleep and see that there are discreet/differentiated periods of sleeping. Calm, slow, easy breathing. And then twitching, rapid eye movements, heavy breathing. Well, I guess it took, and is taking, a good deal of time and effort to switch from a superstitious (low evidence) human-culture to a more scientific (observational/testable) world.
Below is a "typical sleep pattern,"
with explanations underneath: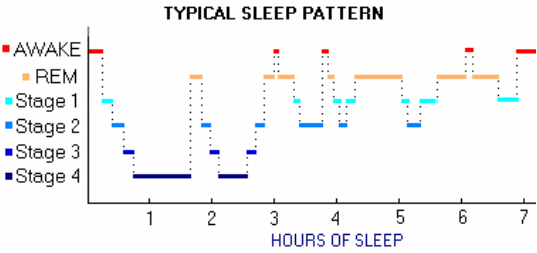 Stage 1 Sleep
is the
shallowest
type of sleep, and the usual pattern is for us to enter Stage 1 Sleep when we first fall asleep. Not likely to recall any dreaming from Stage 1 Sleep. Throughout the sleep cycle, a wave-like pattern occurs wherein we repeatedly dive down from micro-awakenings (when untrained, these are not usually recalled) through Stage 1 to Stage 4 Sleep and back up, with REM-Sleep in between. Let's continue to flesh this out:
Stage 2 Sleep
is "deeper" than Stage 1 Sleep, in that it is harder to awaken from this part of the cycle, and more "restful" than Stage 1. Interesting memory processing may occur during Stage 2 Sleep, but that's another discussion. Keep in mind that these stages are not always super-clear, and are talked about as a point of reference. Anyway, after going from being awake, to Stage 1 Sleep, to Stage 2, we drift "deeper" into:
Stage 3 and 4 Sleep
brings us into a slumber where we are the most unresponsive to stimuli in the environment - hardest to wake someone up from these stages. Whereas
in Stage 2 we still see some Alpha-wave activity in the EEG (Alpha waves are indicative of waking thought), by Stage 4 Sleep Delta-waves are at their peak, and this shows that the brain's cortex is doing something very different from waking-like thought. Stages 1-4 are known as
Non-REM sleep
, and for convenience we will say that dreaming is unlikely during these N-REM portions of sleep (there is some controversy with this, but don't worry about that). After the first cycle going "down" from awake to Stage 1 through to Stage 4, we phase back "up," toward our first REM period of the night:
REM Sleep
is when the dreaming happens. We cycle through the various sleep stages, wave-like, throughout the night, and the REM periods get longer as the night goes on. What this means for lucid dreamers is that lucid dream induction is optimized the closer we get to morning awakening. Although the first REM period of the night may only be a few minutes long, the last REM phase can last 45 minutes or longer. Not only that (and this isn't clear in the diagram above), the REM periods get "stronger" as the night moves along, AND, even within one REM period, the intensity/vividness of dreams usually increases as an individual dream progresses. Ever notice how dreams get weirder and more disturbing as they develop? And there is another very important part of the typical sleep cycle to consider:
Brief Awakenings
occur after each REM period. You can train yourself to record your dreams after each of these brief awakenings. Doing this is a pain in the bum! Waking up to write down your dreams four or five times a night, even if just for a few minutes each, can disrupt your
restedness
for the following day. But this is
one of the most powerful things you can do
when programming your mind to lucid dream. Two reasons for this - 1. You will amass many more dream reports in a shorter time this way than if you just record dreams when you wake up in the morning (good for identifying
dream signs
to look out for in the future), and 2. Disrupting your sleep by waking up to write down your dreams throughout the night actually strengthens your REM activation. It may simply be that the body perceives this disruption as a threat, and threats increase the dreaming-system's activation.
---



To read some more about the 5 Stages of Sleep, here is a guest article written by Kerry McGlone - a Lucid Dreaming enthusiast, and creator of

http://www.dreamlucidly.info/

---
Combining Sleep-Cycle Knowledge With Other Lucid Dream Induction Techniques

Knowing that sleep is typically divided by different stages allows you to time your lucid dream induction efforts. Attempting WILD techniques as you are first laying down to sleep is not likely to be effective for a beginner. Why? Because chances are you will not enter REM Sleep right away, so how could you go right into a dream from waking? (Yes, this is not
always
the case. I have done this, and others have, but focus your efforts where results are more probable to be in your favor!) Another reason to not put too much energy into early-night WILD induction techniques is that your first REM periods are short. Even if you did become lucid, even if you stabilized your lucidity, you would still not have much time to spend in the dream.
Also keep in mind that the image of sleep-cycles above is a generalized depiction. If your day is more challenging than usual (and many of us should be trying to challenge ourselves on a regular basis, "stretching" our potential), either physically or mentally, your sleep cycle may be altered, with more Non-REM or more REM-Sleep. Begin to watch how your body responds to daytime life, by keeping a good dream journaling habit (this can be in bursts, a few weeks at a time; doesn't have to be for the rest of your life!) and you will start to see patterns.
By arming ourselves with the knowledge of sleep-cycles, we can also conclude the best time to take different types of supplements for aiding in lucid dream induction.
For example, Galantamine is best taken after awakening right before your last, and longest REM period. If you take some supplements/nootropics at the end of the day before laying down, you may not be able to fall asleep at all!
---