---
How To Use A Dream Journal

---
Lucid Dream Induction Basics #1: Keeping a Dream Journal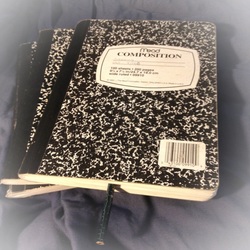 The two most important criteria for achieving lucidity are: 1.
Increasing the vividness
, or strength of the dream system (keep in mind - along with "stronger" dreams also comes the potential for more threatening dream content, because preparing you for handling waking-life threats is what the dream system is for), and 2.
Increasing your critical thinking
inside of the dream.
Both of these criteria will benefit from keeping a record of your dreams!
It is possible to achieve lucidity without regularly keeping a dream journal, but doing this one activity, and doing it properly is a valuable tool in your efforts to achieve lucid dreaming. I have been recording my dreams for the past 20 years, and my volumes of nightly sojourns are a treasure trove into my psyche. Yes, there have been long gaps in my records - mostly due to periods of cannabis smoking - but I have still managed to compile quite a collection of dreams. It's not easy work, and it doesn't have to be done every day for the rest of your life. Your body will resist writing down dreams when they are freshest in your mind because you will likely still be tired, besides, your mind will want to begin to worry about the concerns for the coming day. But if you make the effort, you will be rewarded with not only a powerful channel into achieving lucidity, but also an interesting record of a large segment of your life which you would otherwise mostly forget. There is a carry-over of cognition from REM-sleep which lasts for a few minutes after awakening, and this mental space allows you to recall what was going on in your dreams. Because
memory is contextual
(it is easier to remember happy things when you are happy, sad things when sad, drunk things when you are drunk, etc.), it is difficult to recall the dreaming mind when we are not in dreams. In order to get your waking mind familiar with your dreaming mind (so you can prepare for dreams while awake!), it is important to record your dreams while you have the chance to after awakening, and then to study that material and become aware of what your dreams are like. Don't trust your daytime memory when it comes to your dream life! If it were easy to recognize dreams, if you knew what your own dreams were like, lucid dreaming would be easy and every one would be having them all of the time.
Alright,

how to keep a dream journal

: I like to use the black-and-white marbled notebooks pictured above. I got this idea from the notebooks used by
Ashton Kutcher in the movie
The Butterfly Effect
, but any kind of notebook would do. Keep the book on a nightstand next to your bed, with a pen ready to go in the book as a page-holder. Use a pen that writes smoothly. Here's an important secret:
Do not move from the position you wake up from
until you have recalled as much detail about the dreams(s) as you can. This can be tricky if you are awoken by an alarm clock, but if you wake up by alarm clock you are not waking up naturally and may not be waking up after a dreaming period anyway - if this is the case, your lucidity experiments may be best left for the weekends or during naps. The reason it is important to stay completely still is because waking consciousness is toed into skeletal muscle activation, and as long as you do not move your muscles, you will retain a very dream-like cognition even after awakening. You will even notice sometimes that your hearing does not turn on until after you move - an interesting phenomenon in itself. Yea, so don't move, recall all of the dream material that you can, and then...
Grab your dream journal and write down, on the right-side page a few spaces after your last entry, or on the next right-side page in the book. Word the dream in the present tense, such as "

I am in my childhood home trying to find...,"

not in the past tense. Writing in present tense will keep your memory more anchored to the dream events while trying to squeeze out as much recall as you can get. Include anything you can remember - emotions, dialogue, all of the "W's" - who, what, where, when, why (and how). If you are not sure about something, indicate that, don't guess too much. It will be tempting to skip the whole writing process. You may be tired or anxious to begin the rest of your day. You may think that the dream was to ordinary, plain or bland to bother with. This last point will seem silly when you go back later on, expecially if you can go back to dreams you recorded years before. Every entry will have been worthwhile. What seems mundane when you have just woken up, you will later realize was in fact bizarre, strange, and enlightening. Especially when you follow the next steps...
In the left margin at the beginning of each morning's entry, record the date and time you woke up. Once you get into the habit of writing your dreams down and it gets easier and easier, you may find yourself spontaneously awakening after every dream, every 90 minutes while you sleep, and you will want a record of what time each dream occurred. Next, we have the left-side page to deal with. On this page, think about and write down whatever daytime events from yesterday, the previous week, or anytime in your life which may have influenced the dream content. Maybe you had a dream about being at your grade school and not being able to find a classroom, and this makes you think of the assignment at work that is stressing you out now. Not only is this whole procedure valuable for lucid dream induction purposes, it is also an interesting way to document your life and will be amazing to look back at in the future.
---