---
Lucid Dream Flow-Chart

---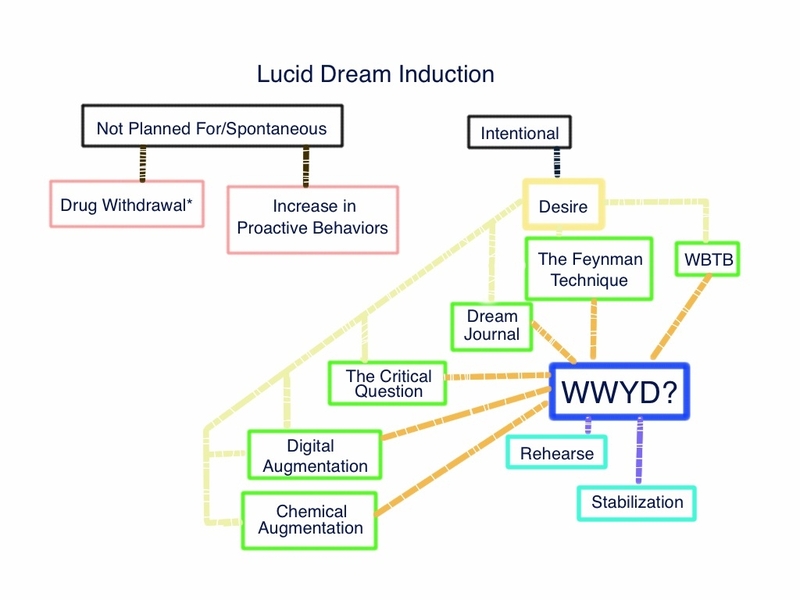 ---
The best advice you'll get is be prepared when your opportunity comes!

A lucid dream can occur without being planned for. My first lucid dream was a surprise. Anything during waking life that increases activation of your dream system (stress, new places, certain chemicals) will increase the chances that you'll notice something too weird in your dream to be real. Also, facing your fears or challenges in waking life will instill a vigilance and can-do attitude that will carry-over into dreams. Usually, for the novice, the excitement of lucidity will wake you right up out of the dream or into a false awakening.
Although lucid dreams might occur on their own, with no expectation for them to arrive, this will only happen once or twice in a lifetime for the average person. The desire, the intention to achieve lucidity, greatly increases your odds of experiencing a BIG lucid dream. These are life-changing events. Once you have the will, the directions are out there. The recipe is available.
By combining methods, using appropriate synergies, proportioned properly, finding yourself awake in a dream and knowing what to do from there are yours for the asking. But there's work involved. Each lucid dream induction technique is a kind of technology that amplifies your will through strategic leverage.
Digital help may be in the form of a REM-detecting mask with signaling, or an app that records your sleep cycle and shows you the optimal time to employ the wake-back-to-bed (WBTB) method. Digital devices can also be used for rehearsal, such as randomly being signaled by an alarm to ask yourself the critical question: "am I in a dream?"
Keeping a dream journal (doesn't have to be forever) is the most solid advice for those seeking lucidity.
The Feynman technique, as I call it, was described by the physicist Richard Feynman: he practiced watching himself fall asleep for several months to gain insight into what happens in the mind when being introspected, for a term-paper in a class. He was able to watch as thinking started to fractate into several themes at once, with less rational logic underlying these thoughts. He got so good at this watching himself fall asleep, that he started to maneuver his critical, observational, inward-looking peepers into full-fledged sleep. He entered into dreams, awake. This is basically what people call the waking-induced-lucid-dream (WILD) technique. Meditation also tends to develop this observational part of the self, the intropsector, watching the other parts of the mind operate.
The trend seems to be using chemical augmentation to aid in lucid dream induction. This is a personal choice. Effectively, what we are trying to do with all lucid induction techniques is to create an optimal chemical soup, the right balance and placement of neurotransmitters in the brain. This process can be sped up with exogenous, rather than self-made, chemicals - be they vitamins, pharmaceuticals, neutraceuticals (no prescription needed), food. There are various families of chemicals that can help one in achieving lucidity. Nootropics. Stimulants. Psychedelics/entheogens. B vitamins. Sometimes even growth hormones and precursors. This is the most experimental area of lucidity induction technologies, and although not for everyone, it is interesting.
However you combine techniques to achieve lucidity, an important consideration for your endeavors is what to do when you become lucid! This should be a key part of your plan. First off, having an intended activity or experiment to conduct when lucid will increase your mind's efforts to manifest the opportunity to execute these plans. Second, having something to do in the dream will keep you focused, so that you don't drift off into regular dream land. Another part of being prepared when you become lucid is knowing how to stabilize the dream. This usually comes down to some kind of movement or out-loud phrase repeated over and over a few times. Spinning your body works. Rubbing your hands together works. Saying "More lucidity now!" is a good mantra - I've used it plenty of times, and found out that others, independently, say the same exact thing.